Facilities at !Uris Safari Lodge

!Uris Safari Lodge boasts delicious Pan African meals including full breakfast, lunch and dinner by candlelight. Dinners are either served in the lounge area or for guests favoring the "bush experience" the BOMA is a favorite. The thatched dining, lounge and bar areas open onto spacious wooden decks, affording views over Namibia's world-renowned sunsets.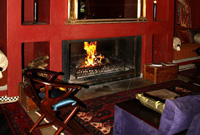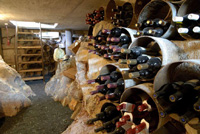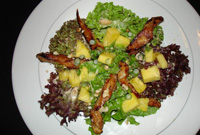 "In the Footsteps of the Diggers" runs like a delicate string of copper throughout the lodge. If it is not at the cozy fireplace in the lounge area, mining history is available at the small scale library, as well as small bits of mineral collections are displayed in the foyer. "Dig" for wine, as you have to go down in the wine cellar with resemblance to the mining era or round off your day with a cigar from our distinctive collection.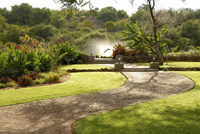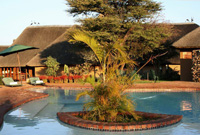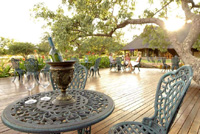 !Uris Safari Lodge is designed to accommodate the disabled traveler and all facilities are wheelchair accessible. A fantastic designed swimming pool is available for guest's relaxation. The lodge masseuse, who is available on request, can offer relaxation packages at her small scale salon.